<IMG SRC="http://www.waltermorales.net:port/video/push">

More Family Pictures click here.

My father Julio Morales Balderrama
Morales family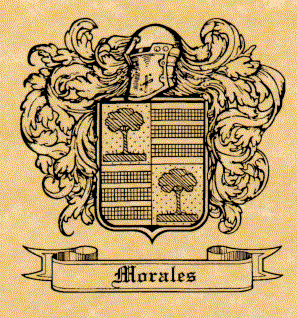 HISTORIOGRAPHY
The Morales Coat of Arms illustrated left was drawn by an heraldic artist from information officially recorded in ancient heraldic archives. Documentation for the Morales Coat of Arms design can be found in RIETSTAP ARMORIAL GENERAL. Heraldic artists of old developed their own unique language to describe an individual Coat of Arms In their language, the Arms (shield) is as follows:
"EC.: AUX 1 ET 4 D'OR └ UN M█RIER DE SIN. SUR UNE TERRASSE ISOL╔ DU M╩ME; AUX 2 ET 3 D'ARG. └ TROIS FASCES DE SA."
When translated the Arms description is:
"QUARTERED: 1 AND 4) GOLD, A GREEN MULBERRY TREE ON A GREEN ISOLATED GROUND; 2 AND 3) SILVER, THREE BLACK HORIZONTAL BANDS."
Individual surnames originated for the purpose of more specific identification. The four primary sources for second names were: occupation, locational, patronymical (father's name) and personal characteristics. The surname Morales appears to be patronymical and locational in origin and is believed to be associated with the Spanish and Portuguese meaning, "the son of Moral (right and proper); one who came from Morales (mulberry tree), the name of two towns in Spain; dweller near a mulberry or blackberry bush." The supplementary sheet included with this report is designed to give you more information to further your understanding of the origin of names. Different spellings of the same original surname are a common occurrence. Dictionaries of surnames indicate probable spelling variations. The most prominent variations of Morales are Moralez, Moral and Moreira.
You, your name and your history are unique. Your ancestors may have been a part of the very events that founded this nation or movements that helped it to flourish and grow. And certainly because you are here today, you had forebearers whose labors are a part of the very fabric of history. Just as your actions - your thoughts - your accomplishments will become a part of tomorrow's history.
No genealogical representation is intended or implied by this report and it does not represent individual lineage or your family tree.
---